News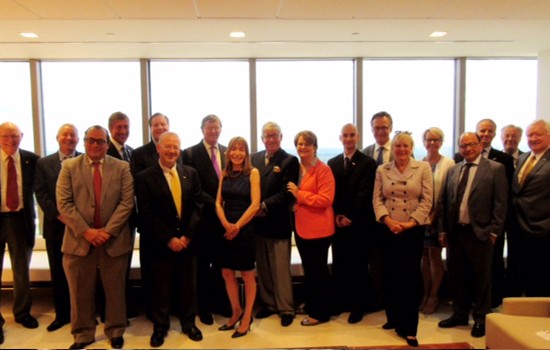 2015 Consular Corps Meeting in Raleigh, NC
Posted on: June 15, 2015
The North Carolina Consular Corps held its annual meeting in Raleigh, NC on June 1, 2015. It met to discuss various topics concerning the Corps' upcoming year and to meet with state officials in order to foster relations between the group and state leadership.
The Corps' Chief of Protocol Catherine Hansen organized the meeting along with Margaret Rosenfeld, Honorary Consul of Germany, who also hosted the group at her law offices in downtown Raleigh.
The day's agenda included conversations with Mr. Chris Chung, CEO of the Economic Development Partnership North Carolina and Mr. Dan Forest, Lieutenant Governor of the State of North Carolina.
More information about the NC Consular Corps can be found at http://northcarolina.consularcorps.info
---
North Carolina Consular Corps (from left to right)
Wayne Cooper (Mexico), Edward Paul (Belize), Gilberto Bergman (Nicaragua), Scott Cutler (Canada), David Robinson (Japan), F. Javier Diaz De Leon (Mexico), Michael Teden (Great Britain), Marie Ribeill (France), Klaus Becker (Germany), Margaret Rosenfeld (Germany), Chris Domeny (Hungary), Magnus Natt Och Dag (Sweden), Catherine Hansen (Chief of Protocol), Yilva Westin (Sweden), Claudio Carpano (Italy), Petr Vasicko (Czech Republic), Heinz Roth (Switzerland), John Young (Ireland)