News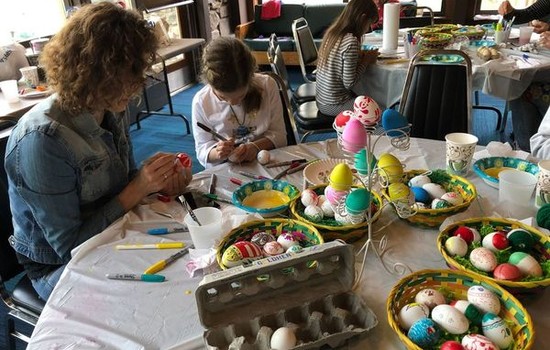 Easter Camp 2019
Posted on: May 01, 2019
Press Release from the Carolinas Hungarian Group
With over 220 participants, the Carolinas Hungarian Group's largest annual event, the Hungarian Easter Camp, revived the Easter traditions at the YMCA Blue Ridge Assembly in Black Mountain, North Carolina during the Easter weekend (April 19-21), now for the 14th time. The participants joined us from various states including South and North Carolina, West Virginia, Mississippi, Georgia, Illinois, New Jersey, New York and Washington DC, as well as from Ottawa (Canada) and from Debrecen, Hungary. The age of the participants ranged from 2 months-old to 92-year-old. The Hungarian cultural programs included decorating Easter eggs, Easter sprinkling and folk dances with the Életfa folk band. This year's special guests were István Battai, master of ceremonies, and Battainé Katalin Szabo, drama teacher, who came from Hungary to facilitate our traditional Hungarian folk activities. Just as last year, Peter Gyombolai, Diaspora Liaison and his wife, Eszter Gyombolai from Washington, DC joined our celebration.
Húsvéti Tábor 2019
Összefoglaló a Karolinai Magyar Csoporttól.
Az évente megrendezésre kerülő Húsvéti Tábor, ami a Karolinai Magyar Csoport legnagyobb rendezvénye, idén 224 résztvevővel ünnepelte a Húsvétot április 19 és 21 között immáron 14-dik alkalommal. Helyszínünk ismét a YMCA Blue Ridge Assembly nevű gyönyörű észak-karolinai tábor volt, ahol együtt ünnepeltek gyerekek és felnőttek 2 hónapostól kortól 92 éves korig. Több amerikai államból is érkeztek táborozók: Észak és Dél-Karolinából, Georgiából, Mississippiből, Ilinoisból, Nyugat-Virginiából, New Jerseyből, New Yorkból, Floridából, Washington DC-ből, valamint voltak résztvevőink Ottawa-ból (Kanada) és Debrecenből is. A magyar kulturális programok széles kínálatából válogathattak a résztvevők a hagyományos, magyaros tojásfestéstől kezdve, a húsvéti locsolkodáson át, az Életfa együttessel rendezett táncházig. Idén meghívott vendégünk volt Battai István, magyar hagyományőrző programok szervezője, és Battainé Szabó Katalin drámapedagógus is, akik a tábor ideje alatt a magyar népszokásokat, népdalokat és népi játékokat elevenítették fel. Gyombolai Péter közösségi diplomata és felesége, Gyombolai Eszter - a tavalyi évhez hasonlóan - idén is megtiszteltek bennünket jelenlétükkel.