News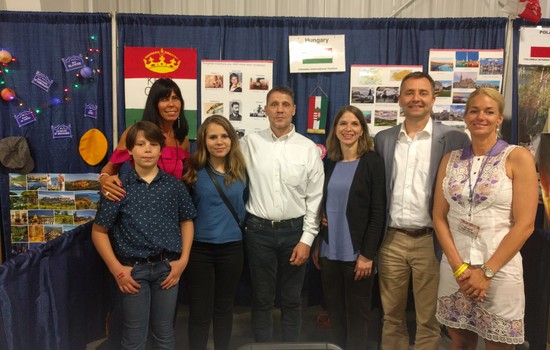 Hungary at the 2018 Columbia International Festival
Posted on: April 20, 2018
2018 marked the 23-consecutive year in which international cultures were celebrated at the annual Columbia International Festival (http://cifonline.org/) in Columbia, South Carolina from April 13-15, 2018. Among the 81 nations and cultures Hungary was represented as well.
During the three-day festival the Hungarian cultural exhibit was organized by the Midlands Hungarians (@Midlands Hungarians) with the leadership of Judit Trunkos and Tímea Boross. This year two Hungarian diplomats also came to support the exhibit. Béla Gedeon, Public Affairs Attaché and Dr. Monika Varga, Consul ensured that the Hungarian table was one of the most visited national exhibits.
Some of the cultural activities included the challenge of solving the Rubik's Cube and pronouncing the longest Hungarian word. This year, the Hungarians also offered Hungarian sausage samples for the visitors.