News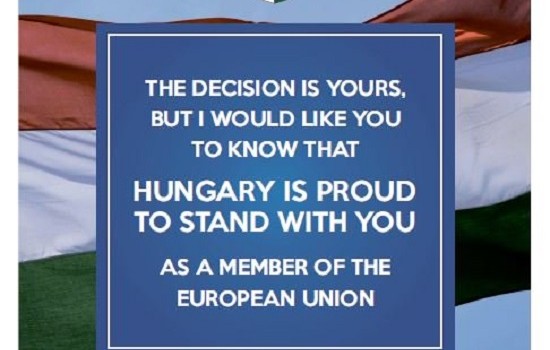 Hungary Weighs in on Brexit, Campaigns for 'In'
Posted on: June 23, 2016
On the eve of the British referendum on European Union membership, Prime Minister Viktor Orbán and the Hungarian government published an ad in the British press urging Brits to remain in the EU. Speaking directly to the British people, the ad, published in the Daily Mail, read, "The decision is yours, but Hungary is proud to stand with you as a member of the European Union."
Government spokesperson Zoltan Kovács, speaking on behalf of the Prime Minister, said that Hungary takes the view that Britiain's continued EU membership is essential to the maintenance of a strong and unified external European voice. While the Hungarian government has frequently been accused of being anti-European, its current "pro-European stance" is demonstrable evidence of its commitment and firm belief in the significant achievements of the European Union, even if in many circumstances Hungary envisages the future of the continent in a different light, the government spokesperson said.
Kovacs originally suggested the ad would be placed in the British press on Saturday, June 18th, but publication was postponed by two days out of respect to the nationwide decision to suspend campaigning in wake of the murder of Labour MP Jo Cox.
(Cabinet Office of the Prime Minister / MTI)