News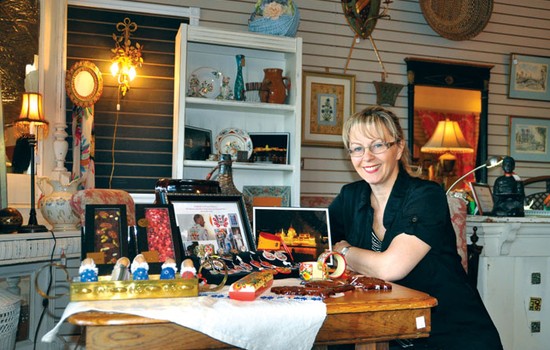 Sun Sailor article: Hungarian honorary consulate opens in St. Louis Park
Posted on: April 25, 2014
A link to the nation of Hungary is as close as a trip to the Miracle Mile Shopping Center in St. Louis Park.
In a small second-floor space at the end of a hallway, Minnetonka resident Csilla Grauzer is transforming an office space she uses in representing Hungarian companies associated with biomedical engineering software and chocolates into a newly authorized Hungarian honorary consulate office.
Ambassador György Szapáry of the Embassy of Hungary visited the Twin Cities earlier this month to open the new honorary consulate and to install Grauzer as its first honorary consul.
"Csilla will be a great honorary consul for Hungary: she is a successful business women, organizes and participates in numerous folk life activities and strives to keep together the Hungarian-American community of Minnesota," Szapáry said.
Grauzer also serves as president of the Minnetonka-based Minnesota Hungarians, a more than 100-year-old organization dedicated to representing and promoting the Hungarian culture and heritage and in engaging in cultural, educational and philanthropic endeavors and fundraising activities. Many of the group's activities take place a Unity Church in St. Paul, which has a sister church in eastern Europe.
The new honorary consul has sought to promote Hungarian ties on a global level. She is a member of the Hungarian Diaspora Council, which meets annually in Budapest to discuss ways to strengthen ties among people of Hungarian ancestry living in countries throughout the world.
According to the Hungarian Prime Minister's Office, the council formed in 2011 to ensure Hungarians living in the diaspora receive attention in Hungarian national policy and as a way of promoting Hungarian's image worldwide.
The new honorary consulate in Minnesota is one of 16 Hungarian honorary consulates in the United States, Grauzer said. Minnesota is home to permanent consulates representing the governments of Canada, Mexico and Ecuador, according to the University of Minnesota's Global Programs and Strategy Alliance.. The state also is home to an undozens of honorary consulates.
"It tells us something about the nature of the Midwestern hospitality of Minnesotans," Grauzer said of the number of honorary consulates in the state. "They're a welcoming people."
The honorary consulate provides fewer services than a full consulate but serves to connect individuals with Hungarian government services as well as to promote business and tourism ties withe Hungary.
The honorary consulate will assist Hungarian nationals with services relating to licenses, notarizations and birth certificates. The honorary consulate cannot process passports or visas but can assist individuals with processing for those documents through a full consulate.
About 14,000 Minnesota residents claim Hungarian heritage, according to 2012 census. Minnesota Hungarians serves around 400 registered families.
"Compared to other ethnic groups, we're talking small," Grauzer acknowledged.
However, Hungarians have a long history in Minnesota, with farmers who arrived from Hungary populating Elk River area at the turn of the 20th century. Other groups of Hungarian immigrants arrived intermittently in subsequent decades. Grauzer arrived in Minnesota as a seeker of political asylum in 1983.
Escape from Transylvania
She hails originally not from Hungary proper but from the Transylvanian region of Romania, within what had been Hungary's borders prior to World War I.
As a member of a Hungarian family who spoke the linguistically unusual Hungarian language, Grauzer said she grew up as a member of a minority under Communist rule in Romania.
Her brothers left first in 1978, risking the possibility of being shot as they fled.
"Things were so bad you didn't care," Grauzer said. "You said, 'Well, if I get shot, I get shot.'"
Her brothers escaped Soviet-led Romania but found themselves imprisoned in neighboring Yugoslavia before eventually being released and finding their way to a refugee camp in Italy, Grauzer said.
The rest of the family became even less popular with the Communist government when authorities learned her brothers had left, and Grauzer said they faced constant surveillance. When the Soviet Union agreed to allow some dissidents to leave its borders, Grauzer and the rest of her family managed to join her brothers, who by then had reached the United States. She traveled to Minnesota because a brother had found a job in the state at the time.
Nowadays, Grauzer said she loves to travel back to eastern Europe but appreciates how relatively simple business transactions can be in the United States.
"After 30 years of living here, I don't believe I can live in Europe any more, but I need that fix," she joked of her return visits.
She noted that only about 25 years have elapsed since the fall of the Iron Curtain.
"Democracy in Hungary is still pretty new," she noted.
A new era
The country's government is still a work in progress but continues to develop, she said. The country, which in modern times is about the size of Wisconsin, has also become more popular as an affordable tourist destination with high-quality restaurants, wineries, thermal baths and shopping. Minnesota businesses with offices in Hungary include 3M, Medtronic and Cargill.
Although neighboring Ukraine has faced unrest as of late with residents who seek to join Russia, Grauzer said such a movement does not exist in Hungary.
"It's no love fest with Russia," she said.
She noted Hungarians still remember people who died in the Hungarian Revolution of 1956 fighting the Soviet-led Hungarian People's Republic.
"It's still pretty raw," she said.
Since Hungary became a member state with the European Union about a decade ago, freedom to travel and trade has helped ease tension among ethnic groups in the country, she added.
"I think we take it for granted when you look at what's happening in Ukraine right now," she said.
She said the United States has also been good to immigrants from eastern Europe.
"For all the faults we find in this country, it still is to this day the land of opportunity for many people," she said.
Although Hungary and the surrounding area still has progress to make, Grauzer said she never expected the area to reach the level of freedom and openness residents there now enjoy.
"I didn't feel it could happen in my lifetime because it was so bad and so embedded in the culture," she said. "I thought I would never want to go back because it was so bad and horrible and degrading. But I went back and have been going back ever since."
As the honorary consult to Minnesota, Grauzer hopes to continue to provide a bridge between Hungary and the United States.
The honorary consulate's address is 5009 Excelsior Blvd., Suite 154, in St. Louis Park. Its phone number is 612-554-6227. Grauzer may also be reached at csgrauzer@hungaryconsulateminnesota.com.
Although the honorary consulate's website was not operational as of press time, more information about ties between Minnesota and Hungary is available at MinnesotaHungarians.com.
Contact Seth Rowe at seth.rowe@ecm-inc.com
Source: http://sailor.mnsun.com/2014/04/25/hungarian-honorary-consulate-opens-in-st-louis-park/