News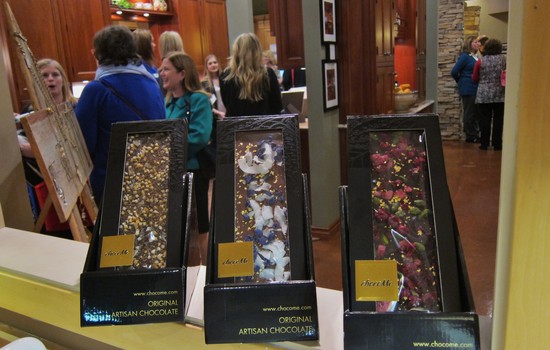 Wine, Women & Wishes 2014 (November 6, 2014)
Posted on: November 09, 2014
Csilla Grauzer was happy to support, promote and represent chocoMe, a line of handcrafted artisan chocolate bars imported directly from Hungary, as a sponsor at the "Wine, Women & Wishes 2014" (Make-A-Wish MN) fundraising event on November 6, 2014 in Crystal, Minnesota.
It was a wonderful evening with a great opportunity to start the holiday shopping, get great every day gift ideas while enjoying a variety of food, beverages and entertainment and supporting wishes.
The event sponsored Nolan's wish to go to Disney's Animal Kingdom and also launched the Sapphire Circle Program to support Make-A-Wish's mission of granting wishes of children with life-threatening medical condition.
chocoMe artisan chocolate bars are made in Hungary with fine Belgian chocolate and limitless customizable toppings, from candied lavender and gold flecks to freeze dried fruits, nuts and rich spices. (www.chocome.us)