News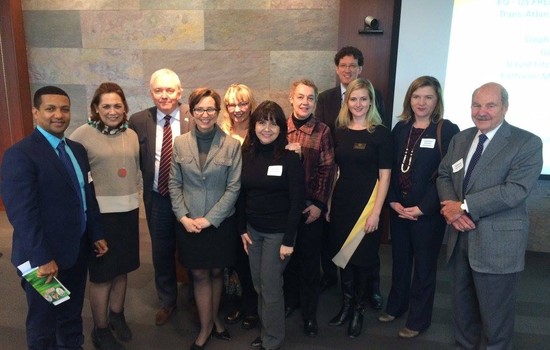 Seminar: EU-US Free Trade&The Future of World Trade
Posted on: March 03, 2016
Representatives from the Minnesota Consulate Corps attended the Seminar organized by the Minnesota Trade Office and British Consulate - General (Chicago). The seminar focused on the Trans-Atlantic Trade & Investment Partnership (TTIP) and the impact of the ambitious free trade deal.
Key note speakers included:
Stephen Bridges - HM British Consul General (Chicago)
Gordon Anderson - CH Robinson
David FitzSimmons - Congressman Emmer's Chief of Staff
The seminar was moderated by Kathleen Motzenbecker, Executive Director of the Minnesota Trade Office.
The Transatlantic Trade and Investment Partnership (T-TIP) is an ambitious, comprehensive, and high-standard trade and investment agreement being negotiated between the United States and the European Union (EU). T-TIP aims to bolster the already strong relationship in a way that will help boost economic growth and add to the more American and EU jobs already supported by transatlantic trade and investment.
Read more about a T-TIP: https://en.wikipedia.org/wiki/Transatlantic_Trade_and_Investment_Partnership