News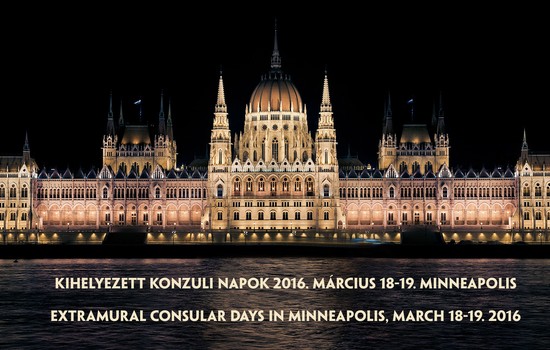 Kihelyezett konzuli napok márciusban - Extramural Consular Days in March
Posted on: February 19, 2016
Magyarország újranyitott Chicagói Főkonzulátusa 2016. MÁRCIUS 18-19-ÉN kihelyezett konzuli napot tart Minneapolis és környéke Magyarság részére.
A konzuli napok elsődleges feladata, hogy a távolságok leküzdésével közelebb vigye az egyszerűsített honosítási eljárást az érdeklődőkhöz, valamint, hogy a Magyary Közigazgatási Egyszerűsítési Program nyújtotta lehetőségek által elérhetőbbé tegye a közigazgatási és konzuli szolgáltatásokat a külföldön élő magyar állampolgárok számára.
Az egyszerűsített honosítás azoknak a magyar származású embereknek jelent lehetőséget, akik, vagy akik felmenői, valamilyen oknál fogva elveszítették magyar állampolgárságukat (területelcsatolás, megfosztás, elbocsájtás stb.).
Az egyszerűsített honosítási kérelmek mellett, egyéb állampolgársági és konzuli ügyekben is lehet felvilágosítást kérni.
Időpont foglalása KÖTELEZŐ!
Figyelem!
A Chicagói Főkonzulátus az új típusú biometrikus azonosítót, így ujjnyomatot is tartalmazó magánútlevél helyszíni ügyintézéshez szükséges "mobil egységet" a kihelyezett konzuli napok alkalmával üzemeltetni kívánja.
Tekintettel arra, hogy az ügyintézéshez pontos és előzetes adategyeztetésre van szükség, útlevél ügyekben közvetlenül a külképviseleten és e-mailben kell egyeztetni, az alábbi címeken:
Egyéb ügyben telefonon: a (312) 344-1290 telefonszámon vagy a mission.chi@mfa.gov.hu, illetve a consulate.chi@mfa.gov.hu e-mail címen.

Kihelyezett konzuli nap ideje: 2016 március 18. és március 19. de. 10 óra
Helyszín: Honorary Consulate of Hungary
5009 Excelsior Blvd suite #154 Saint Louis Park, Minnesota, 55416
Időpontokat a JLudwig@mfa.gov.hu e-mail címen
vagy a (312) 344-1290 telefonszámon lehet foglalni.
Extramural Consular Days in Minneapolis,Minnesota (March 18-19. 2016)

The reopened Consulate General of Hungary in Chicago is organizing extramural consular days in Minneapolis, MN on March 18-19. 2016.
The primary task of the consular days is to bring the simplified naturalization process, to US citizens of Hungarian origin interested to become Hungarian citizens.
The simplified naturalization process provides a solution to citizens of Hungarian origin who or whose ascendants lost Hungarian citizenship for any reason (territories detached from Hungary, deprivation of citizenship etc.).
Visitors can ask for information about other issues beyond simplified naturalization process.
The Consular days take place at:
Honorary Consulate of Hungary 5009 Excelsior Blvd suite #154
Saint Louis Park, Minnesota, 55416
Appointments shall be reserved at:
Phone: (312) 344-1290
E-mail: mission.chi@mfa.gov.hu