News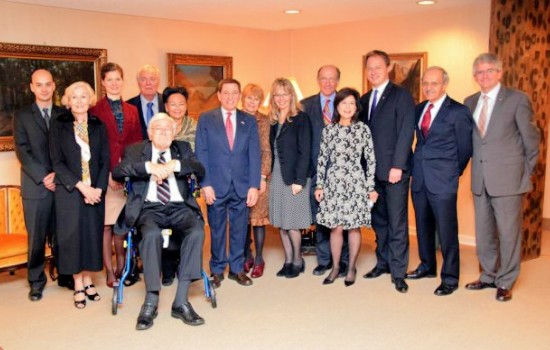 2014 Annual Honorary Consul and Economic Counselor Conference in the U.S.
Posted on: January 07, 2015
Honorary Consuls, Consuls General, and Economic Counselors representing Hungary from the East Coast to the West gathered in Washington on December 4 and 5 for a two day meeting hosted by the Hungarian Embassy to share their experience in reaching out to the Hungarian communities, in coordinating cultural events and consular activities. Ambassador Szapáry hosted a dinner in honor of the Honorary Consuls and evaluated the current state of affairs between the two countries.
Participants included Mr. László Böjtös and Mr. John Lauer from Ohio, Mr. John E. Parkerson, Jr. from Georgia, Dr Stephen Gergatz from Florida, Mrs. Eva E.Voisin from California, Mr. Dennis Bechara from Puerto Rico, Mr. Phillip Aronoff from Texas, Mr. Chris Domeny of North Carolina and Mrs. Csilla Grauzer of Minnesota.
Ambassador Szapáry in his opening remarks thanked the participants for their hard work throughout the year and stressed that events in Ukraine was a game changer for our region as US attention now re-focused on Central and Eastern Europe. The Ambassador also spoke about the recent developments in Hungarian-American relations and drew attention to the increased focus on boosting bilateral trade and investment.
Ferenc Kumin, Hungary's new Consul General in New York highlighted that New York is an ideal base for Hungary's cultural diplomacy which is buttressed by the NY-based Balassi Institute's extensive cultural programs. With the arrival of a new counselor for national cohesion to the NY consulate, the outreach to the Hungarian-American community will gain new momentum.
For complete coverage of the event and a photo gallery, please read the full article here.